According to statistics, the average height for men is 5'8″ and 5'3″ for women. Any person under that stature is considered short.
The review below discloses the best office chair for a short person in the market today.
It also highlights critical factors that short people should consider when buying office chairs.
Detailed reviews of the five best office chairs for a short person
AmazonBasics Low-Back Chair – Best Value for Your Money
Sale
Amazon Basics Low-Back,...
Comfortable task and computer chair with black...
Pneumatic seat-height adjustment; 2-inch-thick...
275-pound maximum weight capacity
BIFMA Certified
Chair Dimensions: 20.47*20.08*32.87-37.4 inches...
This chair is an amazon brand purposely designed for petite users. Its height adjustment can go as low as 16″. Therefore, the user's feet will gently touch the floor with no strain.
It has a depth of 17.5 inches, a width of 18 inches, and a height of up to 21 inches. The chair has five smooth-rolling casters. They make it possible for the user to move from one workstation to another.
It has a breathable mesh fabric which enhances user comfort. As such, you cannot feel moist or sweaty on your back after long sits. The chair design enables users to sit upright. Doing so positions the spine correctly, thus, improving your posture.
Mostly, AmazonBasics is suitable for people who use computers for long hours. You can slide it onto your desk as much as you want. Using such a chair will keep you focused on your tasks.
Since it has a 360-degree swivel, the user can handle several tasks simultaneously. The maximum weight capacity for this chair is 250 lbs. It is also available in a variety of colors to suit your sense of style.
Pros
Its price is pocket-friendly
It has pneumatic controls that allow you to lower or raise the seat with ease
It has a contoured mesh back, which essential for lower-back support and breathability
Its assembling is easy and takes a short time
Cons
The seat lacks armrests.
Since its seat pad is only 2 inches thick, it quickly wears out with continuous use.
Herman Miller Aeron Chair Size ABest for Lumbar Support
Herman Miller Aeron Ergonomic...
Your purchase includes One Herman Miller Aeron...
Chair dimensions: 38.5" H x 25.75" W x 16" D. Seat...
Tilt Limiter lets you set the recline range at one...
Try the Adjustable PostureFit Sacral/Lumbar...
Fully Adjustable Arms adjust from a height of...
​The Aeron office chair is available in three different sizes, and A is the smallest. Its height ranges from 15 to 19 inches. As such, it perfectly suits anyone with a height of between 4 feet 10 inches and 5 feet 9 inches.
It can accommodate an individual with a weight of up to 150 lbs. Aeron is made of high-quality recycled material. Its back has eight distinct zones that have varying tension. As such, it supports your body in its entirety.
The PostureFit SL backrests are responsible for supporting the spine. They do so by keeping the pelvis in constant tilting. It has adjustable pads that stabilize the spine base to enhance your sitting comfort.
This Aeron office chair can support diverse sitting postures and motions. At the same time, it maintains your stability and balance. It is suitable for people who engage in cross-performances as they sit. It exclusively accommodates the broadest range of working postures.
Pros
The adjustable individual backrest pads in this Aeron chair provide reliable lumbar support.
It has the tilt ability to forward and recline postures which are suitable for your spine.
No matter how short you are, size A will offer you incredible comfort compared to other chairs.
The eight tension zones are made of high-tech fabric and mesh. They fully support your back, no matter your sitting posture or height.
Cons
Due to its high-tech design and features, it is more expensive than other office chairs.
Modway Thrive Drafting Chair – Best for Standing Desks & Studio Spaces
Sale
Modway Thrive Drafting Chair -...
STUDIO CHAIR - Practice a musical instrument,...
ERGONOMIC SUPPORT - Excelling passive lumbar...
STANDING DESK COMPANION - Energizing office décor...
ADJUSTABLE HEIGHT - Greet guests in a reception...
Short people should use the Modway drafting chair for standing desks. As such, it will give them proper lumbar support and ergonomic safety.
The drafting chair has a hydraulic lift, which adjusts its height from 20 to 28 inches. That height seems unreasonable for short persons.
However, it has an adjustable foot ring, thus making it fit for short people. The ring keeps one stable and helps maintain proper posture.
This chair has a dense pad that provides for proper circulation of blood in the thighs.
Modway chair offers excellent lumbar support for your back. Its backrest is made of breathable mesh, which gives you a cooling effect as you sit.
Short people mostly use a drafting chair while working on a standing desk or a drafting table. It is also used in studio spaces, for instance, when practicing a musical instrument.
It is also a perfect office décor and is available in different colors.
Pros
The presence of a breathable mesh back makes it efficient in lumbar support
It has a hydraulic lift for easy height adjustment
Since its foot ring is adjustable, short people don't need a ladder to sit
Cons
It is not recommendable to sit on this chair all day long.
Steelcase Amia Chair – Best for Continuous Lower Back Support
Steelcase Amia Ergonomic...
Connect fabric is 100% polyester
Wheels for carpet flooring
Ergonomic chair – features include adjustable...
All day comfort and back support - Amia changes...
Quality & durability – designed to withstand...
This office chair has an adjustable seat depth of between 15.5 to 18.5 inches. As a result, it takes the form of your body frame with ease.
Whenever you lean forward while sitting, some pressure forms at the back of your legs. Steelcase Amia significantly relieves stress due to its flexible seat edge.
The seat height can go down up to 16 inches. As such, it is incredibly favorable for people with short frames. The backrest design allows for flexibility and adjustability. As a result, it gives your lower back continuous support all day.
Another feature that makes this chair more attractive is its adjustable armrests. These armrests can move in four dimensions, thus, supporting you in any posture you take. It also gives short people total control over their arm support's height and width.
This Amia chair can hold a maximum weight of 300 lbs and still function as usual. It comes in 21 different colors.
Pros
The use of Livelumbar technology makes this chair perfect for lower back support.
It has adjustable depth and height, thus making it suitable for short people.
Its adjustable armrests offer comfort and weight distribution to the user.
People with dense body mass can use this chair since it accommodates up to 300 lbs.
It comes with a long-term warranty of 10 years.
Cons
It is a bit more expensive than other task chairs. However, you will be grateful for the investment you make in it.
NBF Faux Leather Petite Chair – Best in Durability
Black Faux Leather Petite Low...
POLYURETHANE UPHOLSTERY: The 100% PVC-free Black...
FULLY ADJUSTABLE: To ensure user comfort, this...
GREENGUARD CERTIFIED: The materials in this...
ASSEMBLY REQUIRED: This product does not come...
DIMENSIONS: 24.75-26.25"W x 25"D x 35.25-37.25"H
The black upholstery material used to make this office chair is 100% PVC-free. As such, it makes the chair highly durable and easy to clean.
Unlike most office chairs, this NBF Faux has a variety of adjustable features. They are; lumbar support, arm height, seat height, arm width, synchro tilt, and seat tension. These flexible features aim at enhancing user comfort.
The height of this petite chair can go down up to 18 inches. It also has a seat depth of 17 inches. The combination of these two features makes it perfect for short individuals.
The materials used in the chair design have approval and certification from Greenguard. As such, they are safe for your health since they meet acceptable pollutant standards.
It has also been approved by the American Chiropractic Association and rated by BIFMA.
Pros
The seat tension and tilt lock control provide adequate lumbar support.
Since it has a low seat depth and height, it offers optimum comfort to short people.
It has a thick cushion which makes it more comfortable and durable.
The leather used in its making is very eco-friendly.
Made of high-quality material, thus giving it durability and stability.
Cons
The chair does not come assembled. Therefore, you need to do the assembling yourself after purchase.
It lacks a breathable mesh, thus not suitable for long-hour sitting.
Buyer's Guide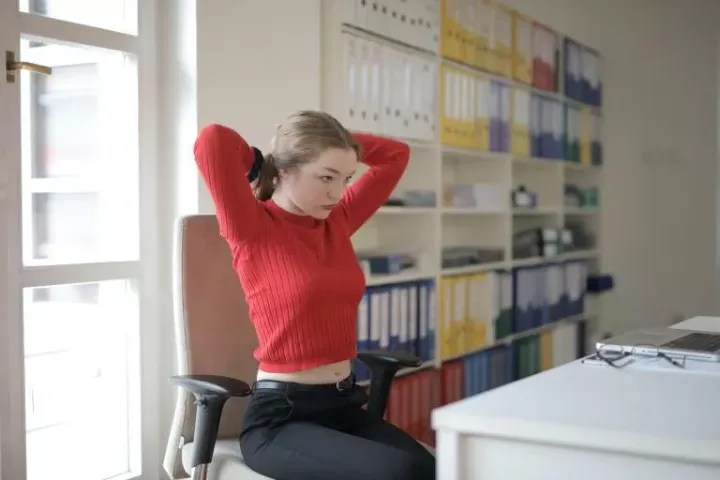 If you sit behind a desk all day long, a chair that correctly supports your back, arms, and thighs should be paramount. Unfortunately, many offices and workstations have no small desk chairs for a short person.
Also, very few manufacturers in the market specialize in small desk chairs. As such, short people encounter tons of challenges when buying office chairs.
Statistics show that chairs play a significant role in employees' daily productivity. A comfortable office chair allows one to concentrate on the work they have to do. On the contrary, employees tend to focus on an uncomfortable chair rather than work.
Apart from comfort, a chair has a remarkable impact on the lumbar, muscles, and joints of the user. If it does not fit your frame, it can cause serious health implications over time.
Therefore, you need to find an office chair that perfectly matches your body frame.
Below are vital factors short people should consider before buying an office chair:
Lumbar Support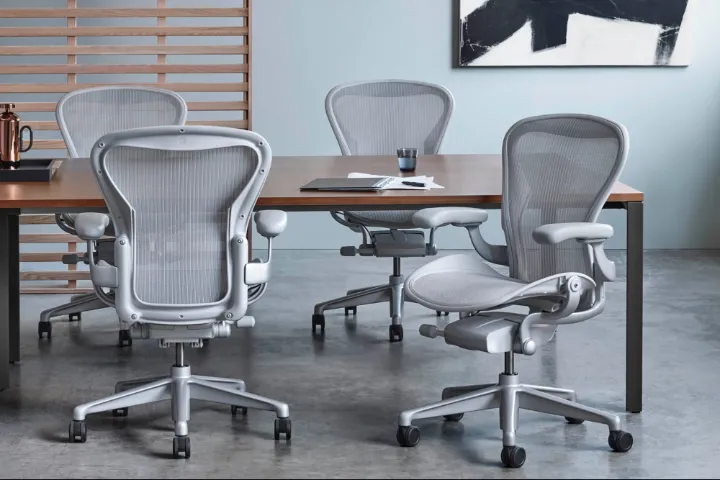 ​Your spine is of great importance and should be given priority in chair selection. An office chair that has a lumbar support feature improves your posture. It also reduces strain on your lower and upper back. Also, lumbar support causes your spine to curve well as you sit. As a result, you get more comfort through long working hours.
Seat Height
​For a short person, seat height is a critical feature you should always consider. Low seat height is crucial in ensuring that your feet are not dangling as you sit. Dangling feet interfere with proper blood circulation. It also puts pressure on your underside thighs. On the specification manual of any chair, seat height is indicated. Make sure you choose a chair that is adjustable to 18 inches or lower. Alternatively, you can use a footrest if the chair is not as low as you want it to be.
Seat Depth
A chair that has low seat depth is recommendable for short people. There should be one to two inches between your inner thighs and the seat edge. If the seat is too deep, it causes improper blood circulation and strain on your inner thigh. A seat depth of 18 inches works well with most short people. However, the best choice is to go for one that has an adjustable seat depth.
Tilt Ability
An office chair that has a backrest tilt is essential for short people. It relieves pressure on the spine as you sit. Tilt tension control is also crucial as it aids back-tilt for short people. Forward tilt should also be paramount as you are looking for an office chair. It simplifies interaction with your working desk.
Armrests
​Short people should consider adjustable armrests, especially in terms of width. As such, you can bring them as close to your body as possible. Doing so enhances comfort and keeps you relaxed throughout your sitting period. Ensure also that the padding of the armrests is soft. Hard armrests are likely to affect your elbow nerves negatively over time.
Comfort
Many office chairs have great designs, but not all of them are comfortable. Comfort is the fundamental factor since it dramatically influences your productivity. Look out for a chair that has special comfort features. Usually, well-padded cushions are the primary comfort features. With such, you can sit throughout your workday without any discomfort or aches.
F.A.Q.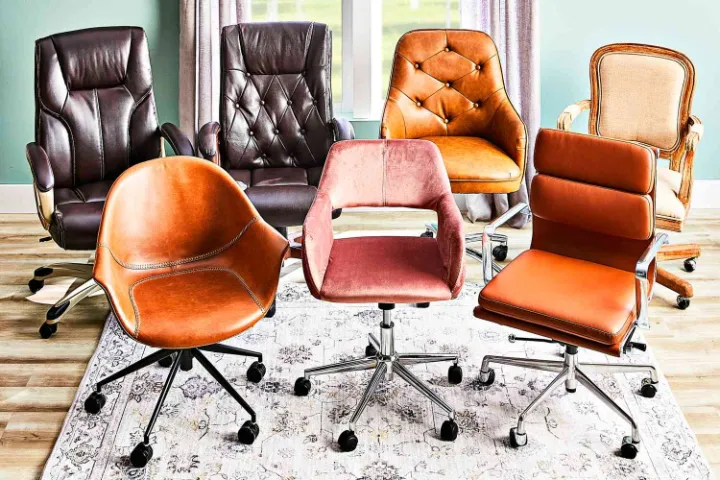 Can I use an office chair with a headrest if I'm short?
As a short person, you should be careful when buying an office chair with a headrest. A comfortable headrest should ideally fit into the curve of your back neck.
However, for a short person, the headrest comes at the back of your head, thus pushing it forward. Therefore, if you must use a headrest, you must be sure that the chair perfectly fits your height.
Nonetheless, most office chairs for short people don't have a headrest option.
Is lumbar support necessary since I'm short?
Yes, lumbar support is vital to everybody, despite your height. It protects your lower spine and back from strains, which can lead to terrible aches.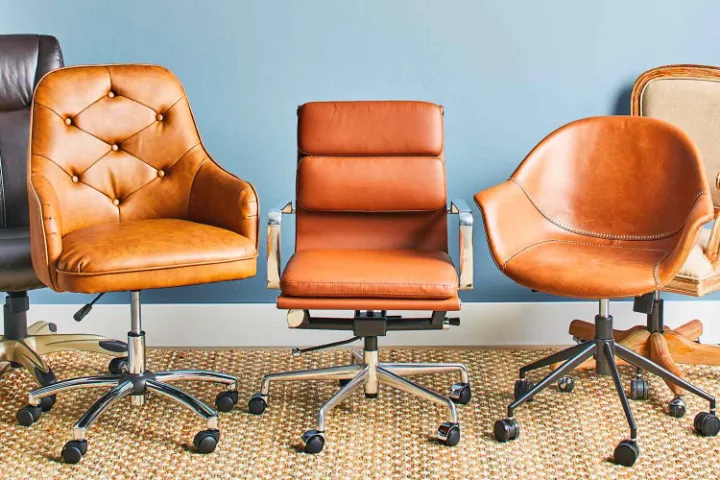 If you intend to use the chair for long hours, then lumbar support should be paramount.
What should I look for when buying an office chair for a short person?
The key factors to consider are seat height, depth, and arm width. Go for a chair that provides for the adjustability of these features, among others. As such, you can personalize each of them to suit your preference.
As a short person, does the weight of a seat matter?
Yes, you should put into consideration the weight of an office chair before purchase. A lightweight chair is most recommendable since you can easily change its location. There are many fancy chairs with excellent features, yet they are not bulky.
Conclusion
People of an average frame can use almost all office chairs in the market today. Nonetheless, the wrong chair selection is likely to cause discomfort and body ache over time.
As a short person, you need a chair that gives you ample comfort for daily productivity. Don't settle for an average office chair. There are plenty of office chairs that are specially designed for short people.
AmazonBasics Low-Back Task chair suits all short users. Apart from its affordability, it sorts out all your comfort problems. It has an adjustable height to keep you comfortable for long-hour sitting.
Also, it offers incredible lower back support.