Do you have a pile of old magazines but don't know how to recycle magazines and turn them into useful things?
Don't worry!
We will show you the way to turn these old pieces of paper into fantastic reusable items for your house. But before getting some suggestions, let us tell you why we should recycle magazines.
Why Should We Recycle Magazines?
Magazines are mixed paper and made of coated paper with a layer of clay on it. They are printed with a type of ink that may contain heavy materials. Also, people cover some magazine pages with plastics, which take a long time to decompose.
Therefore, if you don't recycle magazines and throw them in the landfill instead, you will pollute soil and water by accident.
So how can we recycle magazines? Let's get the answers.
How To Recycle Magazines In 10 Simple Ways
Give Your Magazines To Recycling Programs

As we mentioned, magazine ink may contain some kinds of heavy materials. Hence, they will have a negative influence on the environment if you cannot handle them properly.
Instead, you can give your old magazines to some recycling programs. They have techniques and machines to recycle them. So, just give them your magazines, and they will do the rest.
But what if you still want to retain those old magazines? Well, you can also give them a new life by turning them into something useful. Let's find out what you can make:
Recycle Bins
With some old magazines, you can make a bin yourselves. As you see in the picture, it's not too difficult to do it.
You only need to tightly roll the paper vertically and append them to each other with hot stick glue. Let the glue dry, then attach a cardboard base to the bottom of the box. Done! Now you have a brand new bin.
Bedroom Wallpaper
Renew your bedroom with old magazines; why not? Simply stick the side of the paper by the side on the wall with glue or tape. Your bedroom will become novel and creative. Why don't you give it a try?
Decorative Clockwatchers
Nowadays, real clockwatchers may be unnecessary in your house because you have wristwatches and smartphones. But a decorative clock will make the space in your rooms, such as the living room, bedroom, and dining room, so delicate.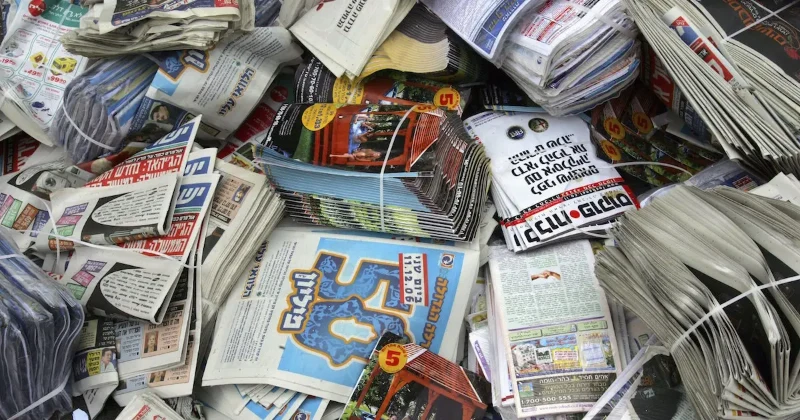 Coasters
Cut the papers into long paper strips with a width of about 1 centimeter and knit them together. You will have coasters for your cups of coffee and tea.
DIY Pencil Cases
It's not too difficult to make a pencil case or pencil stand with magazines. You only need to have papers and glue; then, you can create any styles of case you want. A pen case is not only a tool to put pens into but also a cute ornament for your study space.
Paper Bags
Making paper bags with magazines is a good idea that can contribute to environmental protection. Using these paper bags instead of plastic bags will help reduce the amount of plastic released into the environment. Plus, you can reuse them many times. Sounds great, right?
Envelopes
Why don't you try making envelopes yourselves to include letters for your friends? With some simple folding and gluing paper steps, you will have lovely handmade envelopes. They are even more beautiful than those sold at the store. That will make your letters more meaningful to receivers.
Gift Wrap
Your presents will look so beautiful and novel when wrapped in artistic magazines. Don't forget to attach a lovely bow to the gift to create accents for it.
Mini-boxes
Stop using plastic boxes and replace them with some DIY mini-boxes made of magazines. We suggest you create a lid to cover it. You can put small items in these boxes. It's quite convenient!
Conclusion
Now you know how to make useful things out of old magazines. Trust us; this is going to be of good use when you need to decorate your house or make presents for your family and friends.
Anyway, it is advisable for you to have a tip or two on how to recycle old magazines as that not only helps you protect the environment but also creates useful and lovely items.