A floating corner desk can be the best solution to maximize a small area for office importance. In addition, the floating desk itself is available in various models to fit the condition of your living space.
For some working people, having a private office at home is very essential to consider. In this room, the working people can work without any distractions from other family members.
People also can seriously focus on their project since the room function is only for working, not any else. Unfortunately, for those who only have small living space, they must be confused about creating a kind of office nook in the house without wishing some room function.
Small Floating Corner Desk With White Color
The first corner desk has a small dimension to provide only one person for work at once. This floating desk is designed in a triangle shape with wavy detail on the facade. Clean space on the desktop is quite enough to hold a laptop and some books.
Although the floating desk is small, it still has hidden space under the top for drawers and open shelves for storage. Complete this floating desk with a white chair that is excellent to fit the height of the desk.
To sweeten the appearance, we can place a green glass bottle with a couple of flowers in the corner. The desk is basically painted white, as well as the chair. It will be suitable with any color theme shown on the room wall.
Natural Wooden Corner Desk with Storage
Another smart corner desk is designed in a natural wooden scheme. It appears with a hidden drawer under the top, which can be enlarged as a laptop holder. When the drawer is hidden, the corner desk looks really small.
To keep this area smarter and more useful, two-level corner shelves are attached a bit higher on the floating desk as storage. A stylish black stool with no back is placed under the desk as a compliment.
If you have the desire to beautify your room when there is no working action on the desk, putting a portrait, a moveable table lamp, and some decorative bottles are perfect as an ornament.
This birch floating corner desk has a natural look that can be suitable in any home interior decor style, especially the modern one.
DIY Floating Corner Desk Unit from Wooden Materials
Even when you only have a limited budget for designing a private office at home, a DIY corner desk can be an excellent option to pick.
Selecting the best material that is affordable is essential. Even we can combine two or more materials at once on the desk.
The installation can be fitted with the condition of the room corner. And the dimension of the desk can follow your need.
Just place a simple wooden chair in front of the corner desk as a place where you sit. And make this triangle corner desk as comfortable as possible with some ornaments which can add such a pleasant feeling during the working time.
Floating Desk in Eye-Catching Workspace Ideas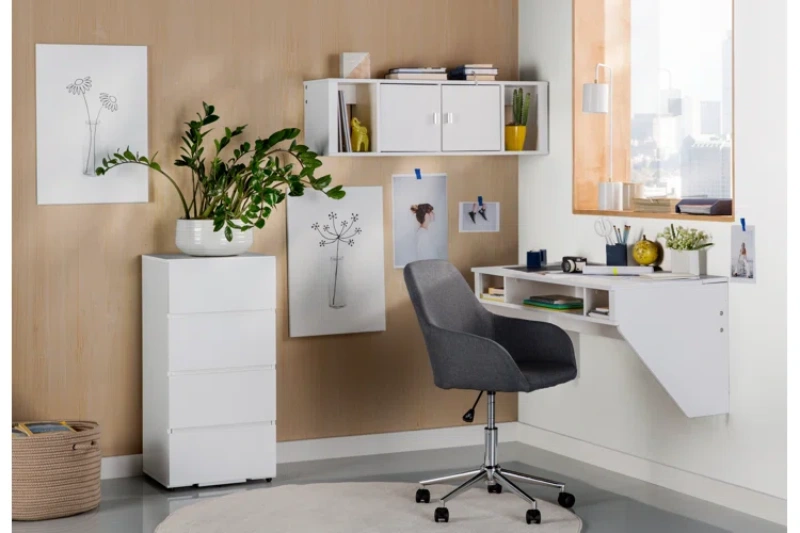 A small room with a bay window should be utilized as a private corner office and library. This interesting area doesn't have to be so crazy with detail or ornament.
We can keep it clean with white paint color dominating the wall. Custom shelves for the books can be installed to frame the wide door in this area.
In this case, the books can be colorful. A large floating desk is intentionally attached in the bright area in front of the bay window.
We can add a black chair with a back and armrest to complete this office nook. To keep this area fresh and bright, we don't need to cover the bay windows with any shutter or blind.
Just keep it clean with no ornament except an industrial reading lamp placed next to the computer screen.
Floating Desk in White Color
Another interesting floating desk is established in the L layout. This white-painted corner desk has extra space for working with many stationery, books, and more. There are two wide open shelves as the main feature of this desk.
Both shelves are built on each tip of the floating desk. Since it is painted in clear white, this floating office desk will be suitable for any home interior color theme, such as light brown.
Placing a stylish wooden chair with steel feet adds extra modern nuance to this warm office.
A decorative mirror with a round frame looks stunning on the wall above this desk as an ornament. Perhaps, on the other hand, this office nook can be a focal point in the room.
Exotic Beams Floating in White Grey Corner Office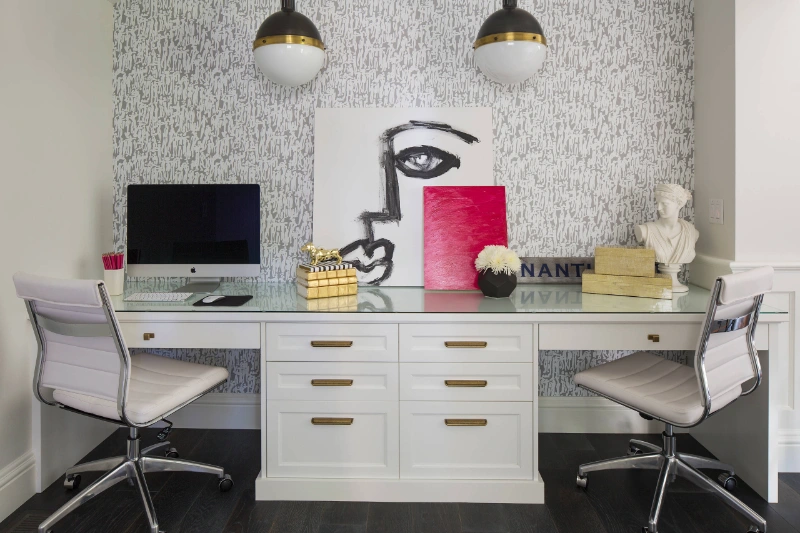 A cheaper private office at home can be created by arranging reclaimed beams as open shelves on the wall.
In different lengths, the beams should be arranged symmetrically on the corner wall to provide enough space for displaying some books and some ornaments.
A bigger wooden board can be selected to be the main floating desk installed in the corner right under the beam shelves. The smaller wooden board is attached to, the bigger one to provide another area for storage.
We can place a wicker basket on this smaller shelf to hide the mess. And beautifying the main wooden floating desk by placing some wooden pots or decorative wicker glass as decoration.
Unique Moveable Wall Floating Corner Desk
Another innovation of the home office comes with an uncommon moveable set of corner desks. This desk actually has a patented shape, complete with open shelves on the top part.
A small space on the bottom is designed in a triangle shape for working with a small netbook.
The wider part of the desk is found on the wall side where some small shelves are available to store some books, mini pots of cacti, and some photo portraits.
White becomes the base color of this corner desk to match any color theme inside the room. In this case, the entire wall of the room is painted light grey.
A semitransparent chair is placed for sitting in front of the desk. To make this area artistic, a colorful abstract painting is displayed on the right wall side with a floral clock above it.
Natural Laminated Hooked Corner Desk Unit
The simpler home corner desk idea involves a hook and kinds of steel string to keep the desk floating. The wooden deck is basically designed in a hexagon shape with proper thickness.
With triangle points built on the corner, this floating desk looks totally fit with the corner wall.
There are no shelves attached to the wall surrounding the desk. It is useful to keep this area clean and minimalist. Stainless steel strings are attached to the wall, strengthened by the hooks.
Although this desk looks small, it may provide enough space for a laptop, some books, and even a medium cubical planter to keep it refreshing all the time. We only need to put a chair or stool to make this spot work properly.
Classic DIY Curved Desk in Small Space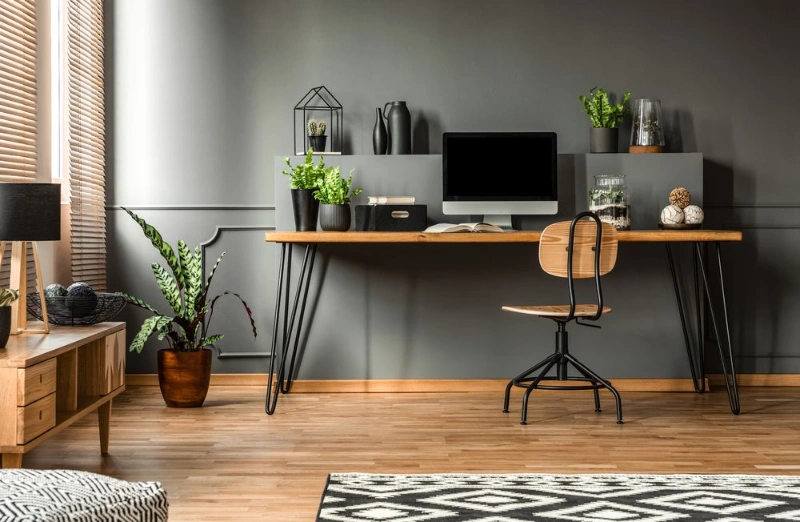 This time, an old-fashioned curved floating desk becomes another alternative to having a chic office at home.
This thin wooden desk is made in a semicircular shape and is attached to the bay window. Two windows are simple without any curtain to cover them.
There are only some portraits of scenery pinned with paper clips on the strings. A personal computer screen is placed on the backside of the desk with a glass of pens, a keyboard, and some papers spreading around.
A common wooden chair is put in front of the circular desk, where there is a bench located on the left. The entire wall is painted in a butter hue with warm brown flooring to keep the room comfortable.
White Desk combined with Gold Lamp Shades
Having only a tiny space for living is not an annoying condition where we cannot build our own home office. Creating a kind of corner area for the office even becomes easier with a floating desk. This small floating desk is basically painted in white.
This desk is attached to the wall with a stunning wall lamp on the left wall side. A personal computer is placed on the desk. There is a wooden stool with a green seat placed under the desk. Some paintings are framed on the wall behind the computer as wall art.
This area has a narrow doorway where people can access the bedroom and bathroom of the house. Another interesting part of this area besides the wall art is the flooring. Deck flooring is applied to the doorway area.
Reclaimed Corner Desk in Clean Workspaces
A stunning office nook in this house is completely amazing. It is cute with a super small reclaimed floating desk.
The reclaimed wooden desk is designed as naturally as possible in the corner. A stylish dark chair is placed in front of the reclaimed desk for sitting.
There is a custom bench located on the left side where the homeowner can place bags or things while working in the office. This working space is quite bright because a window is installed perfectly in front of it.
There is no curtain or shade covering the window to keep the natural sunlight enlightening the room. Dark flooring emphasizes the bright theme of the office. And the dark scheme on the floor looks suitable with the reclaimed desk as well.
Triangle Corner Desk with Furry Chair
As a family office, showing some family portraits on the wall as decoration is enough. It even can be a big motivation to keep you productive.
Well, a triangle-shaped board desk with a specific thickness and size can be intentionally attached to the corner. This desk becomes the main piece of furniture in your office. To add extra space for storage, a smaller triangle board is installed under the main deck.
Some classic open shelves in different sizes are also attached to the wall, where people can place some ornaments, books, and family portraits.
A stylish desk lamp looks superior on the corner of the main desk as illumination. In dark brown, the desk looks strong. It is quite different from the white furry chair which is placed in front of it.
Sleek Floating Desk with Computer Units
In a sleek trapezoid shape, this stylish floating corner desk is installed. The desk surface looks smooth with uncommon brown and cream gradation. A set of personal computers is arranged on the desk with a mouse and keyboard.
There is still more space for working in an area near the PC. Thus, you don't have to worry about that. Nonetheless, there indeed is no shelf or storage applied on this floating desk.
Perhaps, the owner only needs to keep this office clean from any mess without placing any storage in the office. A small stool or chair should be placed under the PC desk to work properly as a private office.
Cool V-shaped Office Desk with Open Drawer.
The drawer is usually found attached to the desk. And it has become the favorite storage where people can store almost anything which is related to the job neatly.
That's why this corner desk also integrates open drawers as storage in this small corner office.
Made of dark wood, this stylish corner desk is attached to the cream wall in a V shape. This narrowed V-shaped desk has a big drawer without any door to allow people to store many things at once.
There is a compact folder placed in the corner to store some papers and stationery. A wooden stool is placed in front of the desk. And it can be hidden under the desk to keep this area clean when it is not in use.
Dino Themed Corner Study Area
Designing a family office that can be used by every family member is a great idea. At this rate, we need to make this area neutral. Or we can just decorate the study room as comfortably as possible, especially for the children.
Based on the picture, the V-shaped floating desk is decorated with a Dino theme. First thing first, three-level free-standing shelves are patented on the desk for additional storage. Some mini Dino clay action figures are displayed neatly as an ornament to match the theme.
A big dinosaur drawing made by the kids is framed on the baby blue wall as wall art. Some stationeries spread over the desk with some dino dolls. A stool is placed under the V-shaped desk for sitting.
Custom Corner Desk for Gaming Rom
A white custom floating desk is installed in the corner of the room. This floating desk is designed with curving detail along the edge.
There is a window with a shutter located on the left wall side. A comfortable, moveable chair is available to complete the function of the desk.
This chair is intentionally selected to make the user comfortable, especially when he or she is playing the game. A big flat screen is attached to the wall with some game controllers and a game console on the desk.
There is no shelf or additional storage featured by the desk. Thus, the owner has to keep this area clean, so this area will always be spacious.
Chic Cottage House with Corner Desk Furniture
A cottage house is related to wood plank. No wonder that we can find planks almost anywhere in the house, such as walls, ceilings, and floors. It is seen in this house too, where planks cover the entire wall and are painted white.
In a similar hue, a V-shaped board is attached to the plank wall. This desk is quite spacious for working, though it only can hold at least a laptop for work. A classic table lamp is placed on the tip for illumination.
A black stool is located under the desk for sitting. For storage, a smaller V-shaped shelf is installed higher above the floating desk. A stack of books and some ornaments are stored on it. A wall clock is found on the left side near the window.
Shared Working Space with Large Desks
This corner office is purposely designed for the family. It can be used for two at the same time. Two chairs in the different models are placed in front of a long, narrowed V-shaped desk. The floating desk itself is built without any drawer or shelf under it.
Thus, people should store any item on the shelves attached to the wall above the desk. One more spacious shelf is attached on the right wall side for some greenery and books.
Some baskets are found under the floating desk to give the owners a special place for storing small items.
A stylish black and grey rug is displayed in the center of the room. A modern ball-shaped pendant is hung above the rug to show super bright illumination inside the room.
Stylish Double Floating Desk Units
A stylish floating desk is designed with double boards. The double boards are attached on the top and bottom to create enough space for storage.
In the L shape, this floating desk looks simple with narrowed and spacious room versions for working. A flat-screen has been attached to the wall with a small moveable keyboard and mouse on the desk.
Some books are organized well on the second board under the first one. Some posters are attached on the right wall side as decoration.